The risk that power plants will run out of fuel is the foremost challenge to a reliable power grid in New England, according to the region's grid operator, and
the region is vulnerable to the season-long outage of any of several major energy facilities
.
While
the ability to count on a portfolio of power plants to generate power is considered the cornerstone of reliable electricity supply
, ISO New England has noted several factors that make fuel security a growing concern for the region. These factors include the inadequacy of the region's natural gas infrastructure to meet winter needs for both heating and power, and the retirement of many of the region's coal, oil, and nuclear power plants due to economic and environmental pressures.
On January 17, 2018, ISO New England released its
Operational Fuel-Security Analysis
, a 56-page report studying the possible fuel security risks facing region's power plants under a wide range of hypothetical future scenarios. Prepared following about two years of study, the report found that
maintaining the electric grid's reliability "is likely to become more challenging
, especially if current power system trends continue."
The report considered a 23 possible range of possible future power resource combinations that could materialize for the winter period from December 1, 2024 through February 28, 2025, to examine whether enough fuel would be available to meet demand and to quantify the operational risks. Each scenario assumed no new natural gas pipeline capacity would be added to serve generators, but considered variation in five other key factors for power system reliability: resource retirements, LNG availability, oil tank inventories, imported electricity, and renewable resources.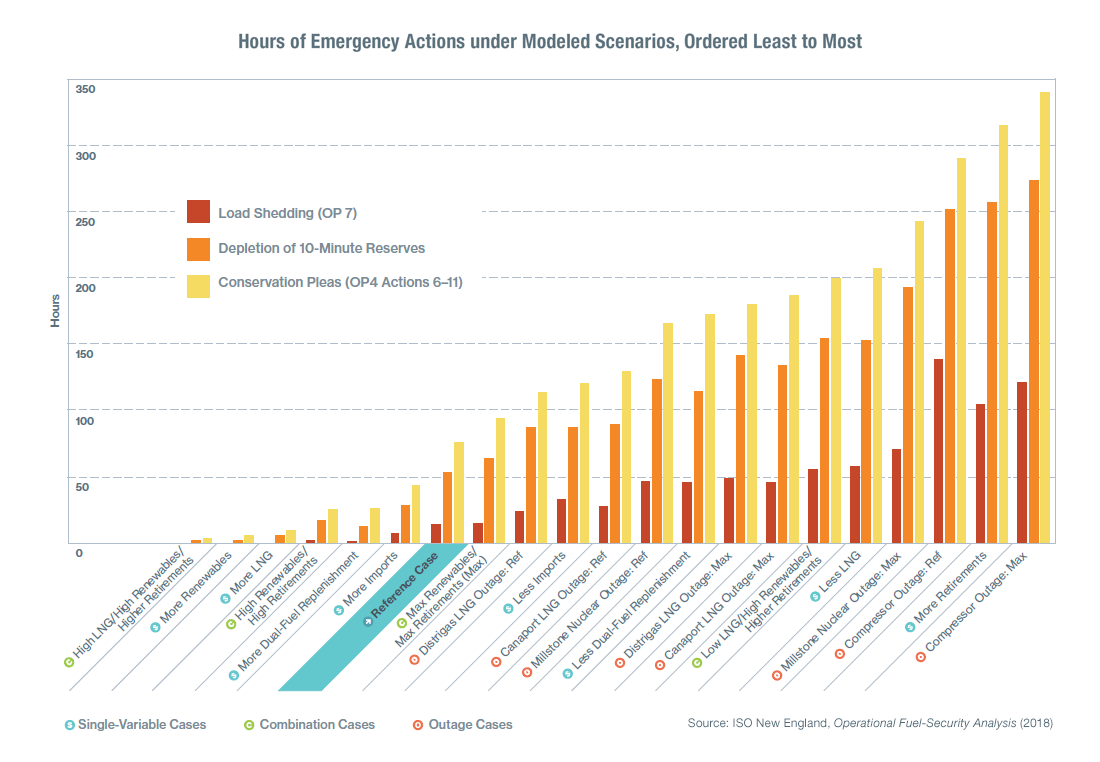 ISO-NE chart of Hours of Emergency Actions under Modeled Scenarios, Ordered Least to Most, Operational Fuel-Security Analysis (2018)
The study identified six major conclusions:
Outages: The region is vulnerable to the season-long outage of any of several major energy facilities.

Stored fuels: Power system reliability is heavily dependent on LNG and electricity imports; more dual-fuel capability is also a key reliability factor, but permitting for construction and emissions is difficult.

Logistics: The timely availability of fuel is critical, highlighting the importance of fuel-delivery logistics.

Risk trends: All but four scenarios result in fuel shortages requiring load shedding, indicating the trends affecting New England's power system may intensify the region's fuel-security risk.

Renewables: More renewable resources can help lessen the region's fuel-security risk but are likely to drive coal- and oil-fired generation retirements, requiring high LNG imports to counteract the loss of stored fuels.

Positive outcomes: Higher levels of LNG, imports, and renewables can minimize system stress and maintain reliability; to attain these higher levels, delivery assurances for LNG and electricity imports, as well as transmission expansion, will be needed.
According to ISO-NE,
quantifying the level of risk over a wide range of possible combinations provides information the region can use to consider approaches to ensuring power system reliability
. The grid operator has said it plans to engage with stakeholders, regulators, and policymakers through 2018 to discuss the operational fuel-security analysis -- and how much risk the ISO and region would be willing to tolerate.