U.S. coal consumption in 2018 will reach its lowest level since 1979,
according to a prediction by the U.S. Energy Information Administration
. Reduced coal use for electricity generation is the largest contributor to the decline, driven by factors including economics and environmental regulations.
The EIA tracks total U.S. coal consumption. According to its latest forecast, EIA expects total U.S. coal consumption in 2018 to fall to 691 million short tons. This represents a 4% decline from 2017, and would bring coal use in line with 1979 levels.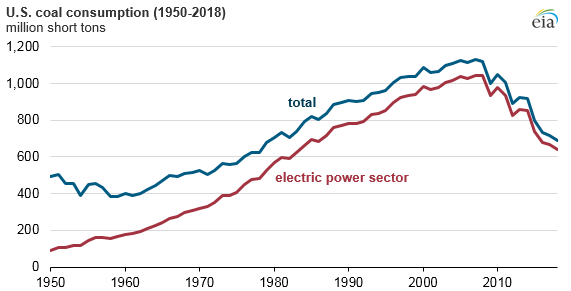 Source: U.S. Energy Information Administration
EIA cites reductions in the use of coal to generate electricity as the largest contributor to this decline. Between 2007 and 2018, 93% of total U.S. coal consumption was for electricity generation. But shifts in how the country generates power -- including
retirements of over 66 gigawatts of coal-fired power plants since 2007
, plus decreases in the utilization or capacity factor of most remaining coal-fired generators -- have reduced the nation's consumption of coal.
Part of the
shift away from coal-fired power production can be explained by economics
. Natural gas prices have generally remained relatively low compared to coal prices over the past decade, and fuel-free renewable power projects are on the rise.
Environmental regulations such as the Mercury and Air Toxics Standards
(which took effect in 2015) have also contributed to the shift, both directly (for example, restricting carbon emissions) and indirectly (by affecting the economics of coal-fired power generation and prompting further plant retirements instead of investments in environmental controls).
EIA predicts that the trend away from coal will continue in the short term
, projecting power sector coal consumption to fall by a further 8% in 2019.