Most new power plants placed in service in the first half of 2014 are powered by natural gas, with new solar and wind capacity coming in second and third, respectively, according to the U.S. Energy Information Administration. Meanwhile, no new coal-fired electric generating capacity was added during that period.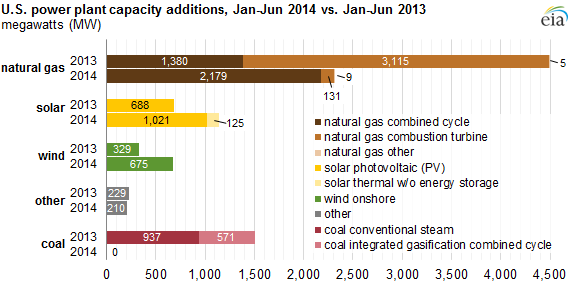 Source: U.S. Energy Information Administration, Electric Power Monthly, August 2014 edition with June 2014 data
Note: Data include facilities with a net summer capacity of 1 MW and above only.
From January through June 2014,
EIA data shows the U.S. added 4,350 megawatts
of new utility-scale generating capacity. Combined-cycle natural gas plants contributed 2,179 MW of new capacity. Of this, over half is located at
Florida Power & Light's Riviera Beach Next Generation Clean Energy Center in Florida
. New combustion turbine plants added another 131 MW. In all, natural gas powers over 53% of new capacity coming online in the first half of 2014. Most of the nation has access to low cost natural gas, which offers significant environmental benefits over other fossil fuels like coal and oil.
Solar projects came in second, with 1,146 MW of new capacity coming online.
Solar capacity is growing quickly
, with an increase of almost 70% in new capacity added over the same period in 2013. Nearly 75% of this solar capacity is located in California, with most of the rest in Arizona, Nevada, and Massachusetts. Notably, the EIA's data only covers utility-scale projects; it omits most rooftop solar projects and any other solar capacity additions below 1 MW in size.
New wind capacity came in third, with 675 MW added. Most of the new capacity is sited in California, Nebraska, Michigan, and Minnesota.
Coal was notably absent from the ranks of new generating capacity added in the first half of 2014. New coal plants face steep headwinds in the form of
environmental regulations
and
stiff competition against natural gas plants
. EIA reports that only two coal plants are planned to come online in 2014.
As regulations and market forces shape the nation's energy mix, where will the new equilibrium be found -- and for how long?