2012's biggest revolution in the energy sector may be the commercial availability of low-cost natural gas. Significant growth in the volume of shale gas produced by hydraulic fracturing, combined with mild demand for natural gas, resulted in 2012 average wholesale prices that were 31% below 2011 prices.
As a commodity, prices for natural gas are typically stated at a pricing point known as Henry Hub, a pipeline distribution hub in Erath, Louisiana. In 2011, the average price at Henry Hub was $4.02 per million British thermal units (MMBtu). In 2012, that price fell to $2.77 per MMBtu, the lowest average annual price at Henry Hub since 1999.
Overall, average annual prices for natural gas fell 30%-34% in 2012 compared to 2011 for buyers at most major trading points. The
U.S. Energy Information Administration recently released this chart showing average spot prices for natural gas in 2012
, and the percent change since 2011: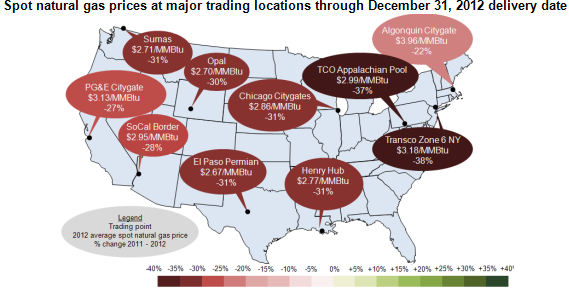 The historic low pricing is driven by several factors. Natural gas production was up 4% compared to 2011 levels, particularly from the Marcellus Shale and Eagle Ford basins. Gas inventories in storage remained high. At the same time, demand rose by 3%; increased use of natural gas for electric power generation was partially offset by a relatively mild winter.
What will 2013 hold for natural gas pricing?